Top 10 5 Star Hotels in Jaipur
Jaipur– The pink City, is quite famous for its culture, tradition, and colorful creatives. If we want to explore Indian Arts & Handicrafts, then our search will be fruitful only visiting this wonderful which is a famous tourist place in India, even for the foreigners. Jaipur is filled with the traditional buildings which are telling their historical stories worthy to remember. Visit Jaipur and ake your trip awesome by staying at popular five-star hotels in Jaipur filled with a comfort zone, modern amenities , yummy food and wonderful housekeeping.
Here is the list of top 10 5 star Hotels/ resorts in Jaipur
1. THE LALIT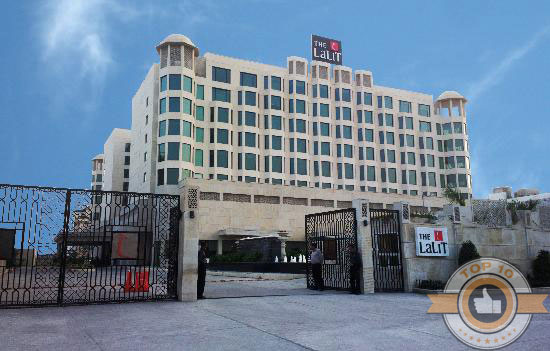 The Lalit Jaipur, is one of the finest five-star hotels in Jaipur, minutes away from the International airport, this hotel is a blend of old-style reflecting the rich cultural heritage of Rajasthan with haveli structural design and resplendent interiors 12 km far from the City Palace Complex.
Spacious and neat rooms and suites instilled with Rajasthani fine art come with free Wi-Fi, flat-screen TVs and writing table and they also have minibars and tea/coffee making conveniences. Promoted rooms improve living rooms with couches. Room service is for 24/7. They offer facilities like spa, gym, swimming pool etc.
Hotel Address: The Lalit, 2B & 2C, Jagatpura Road, Jaipur – 302 017, Rajasthan. India
2. THE OBEROI RAJVILAS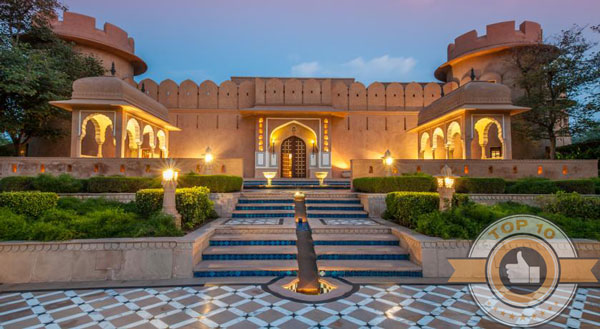 The Oberoi Rajvilas is a royal resort set amid the thirty-two-acre oasis of attractive landscaped gardens, occupied with exotic birdlife. Built around an 18th century Shiva temple which affords to chant with a Hindu priest, meditation and morning yoga. Traditional methods have been used to replicate the famous pink lime plaster walls of Jaipur, all over the resorts.
The Oberoi Rajvilas epitomises traditional Rajasthani attraction and Oberoi luxury. There are three opulent restaurants, Surya mahal, Raj mahal, and Rajwada library bar with a marble fireplace. The spa offers Ayurvedic treatments. There are an open-air pool and a gym. Elephant rides are also offered. Housed in freestanding groups, the classy rooms, tents and villas with walled gardens feature flat-screen TVs, DVD players and tea/coffee making facilities. The Kohinoor Villas have private pools.
Hotel Address: The Oberoi Rajvilas, Babaji Ka Modh, Goner Road, Jaipur – 302 031, Rajasthan, India
3. JAIPUR MARRIOTT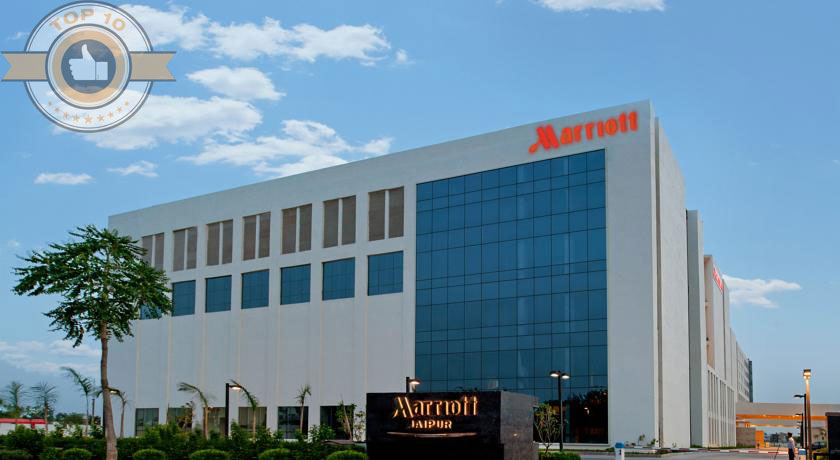 Jaipur Marriott is one of the luxurious 5-star hotels. It is set 2.3 km far from Durgapura Railway Station, this classy hotel with a half glass facade is 14 minutes' walk from Jawahar Circle garden and 11 km from Hawa Mahal palace. Jaipur Marriott hotel is two restaurants and a casual deli.
Additional facilities include an outdoor pool and a kids' pool, a good gym, and a chic spa with Ayurvedic treatments. Parking is also free. Highlighting marble bathrooms, the contemporary rooms come with free Wi-Fi, iPod docks, and flat-screen TVs, as well as sitting areas, minibars, and tea/coffee making equipment. Promoted rooms consist of breakfast and snacks, while suites offer in-room tubs and separate living rooms. Room service is also available for 24/7.
Hotel Address: Jaipur Marriott Hotel, Ashram Marg, Near Jawahar Circle, Rajasthan Jaipur 302015 India
4. TRIDENT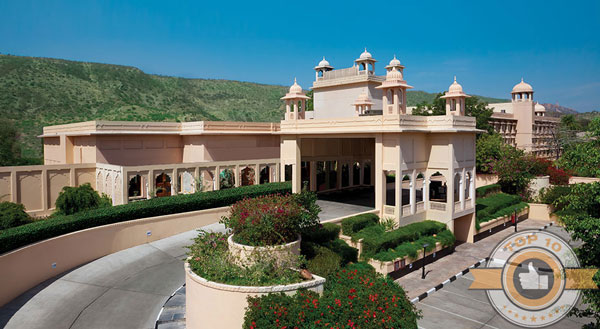 Trident Jaipur is a totally beautiful complex providing superb food and facilities. The staff is all exceptionally friendly and professional too. This lavish hotel is 3.9 km far from the red sandstone Jal Mahal Palace and 4.2 km far from the iconic Amber Fort. Elegant rooms with galleries feature free Wi-Fi, flat-screen TVs and iPod docks, minibars, and tea/coffeemakers. Advanced rooms add lake views, while suites offer separate living areas. Room service is available for 24/7 is totally free.
There are a lounge bar and a comfortable international restaurant with wood features and a lakefront terrace. Extra amenities include an open-air pool, a spa, and a fitness room, in addition to a kids' club.
Hotel Address: Trident, Amber Fort Road, Opposite Jal Mahal,Jaipur 302 002, India
5. ROYAL ORCHID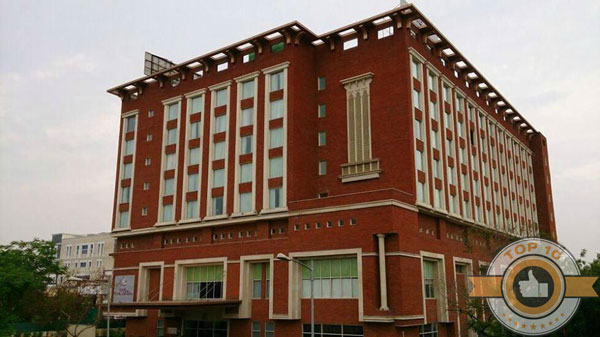 Hotel Royal Orchid, Jaipur, with its location, graceful decor, and high-end facilities is a fine blend of sophistication, convenience, and untroubled comfort. With well-furnished rooms and suites, fine dining restaurants, and classy banqueting facilities.
There are so many facilities provided by hotel like free wi-fi, foreign exchange, electronic locker, mini bar, laundry, iron board. Complimentary breakfast is also there and free parking facility also provided. A big gym and a good spa center are also there.
Hotel Address: Hotel Royal Orchid, Jaipur Opposite to BSNL Office,Near , Durgapura Flyover,Tonk Road, Durgapura, Jaipur Rajasthan India -302018
6. RAMADA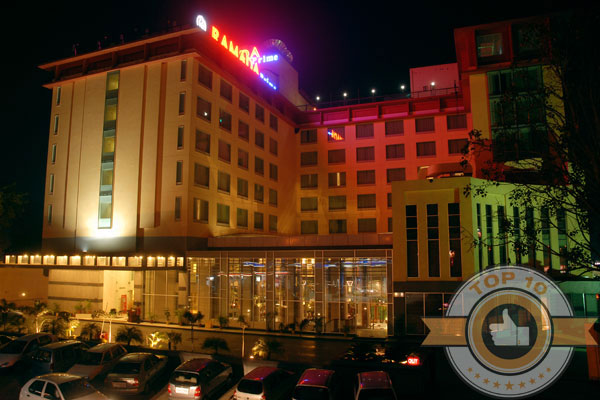 Ramada modern hotel is 1.6 km from Jaipur bus station, 4.4 km from City Palace and 7 km from Jaipur Junction railway station. Ramada Hotel is a brand name of Wyndham Hotels and Resorts Including wooden floors, the polished, minimalist rooms feature free high-speed Wi-Fi, flat-screen TVs, and tea/coffee making equipment. Suites add living rooms, and advanced rooms offer access to a lounge. Room service is available for 24/7. A breakfast buffet is complimentary.
There are 4 restaurants, including a cocktail bar with universal cuisine and a vegetarian Indian option. Additional amenities include a fitness gym and spa and a terrace with an outdoor pool, plus a 24-hour business center and 7 meeting rooms.
Hotel Address: Ramada, Govind Marg, Raja Park, Jaipur, Rajasthan, INDIA
7. JAI MAHAL PALACE, TAJ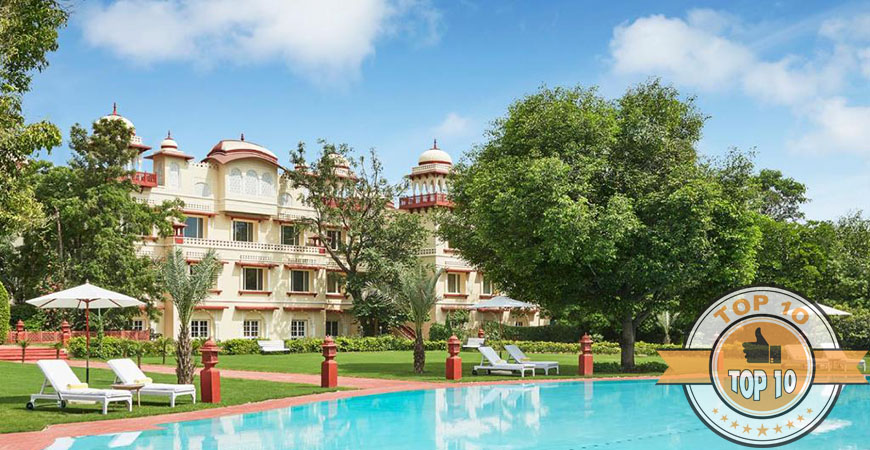 Jai Mahal Palace is set in developed gardens, this splendid hotel in an 18th-century Indo-Saracenic palace is 6 km from the ornate walled Hawa Mahal palace and 14 km far from the iconic Amber Fort. Spacious rooms with traditional Rajasthani decor and marble floors including TVs and free high-speed Wi-Fi, plus tea/coffeemaker, and minibars. Upgraded rooms add flat-screens and/or terraces, while suites offer marble-clad living areas.
Facilities include an open-air pool, tennis courts and a games area, plus multiple dining options including an Italian restaurant, a fine dining room, and a poolside bar. There is also a fitness gym and spa facilities.
Hotel Address: Jai Mahal Palace, Taj, Jacob Road, Civil Lines, Jaipur, Rajasthan – 302006 INDIA
8. RAJ PALACE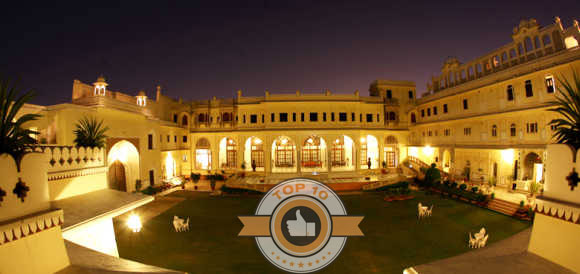 Raj Palace Hotel is 12 km's far from Sanganer Airport. The Raj Palace architecture the reflection of Taj Mahal, Agra. This Hotel can be related to the service and luxuries of amenity and boutique hotel style. It offers multi-cuisine restaurants, the Swapna Mahal has one of the biggest crystal chandeliers of India and an attractive antique crockery museum with a collection of around 200 years old antique crockery used by the kings and queens. So many things to enjoy like restaurant, bar, coffee shop, live barbecue, swimming pool, croquet, gym, spa, Jacuzzi, multimedia theater, business center, folk dances.
Raj Palace proposes world-class facilities and services, in order to make your holidays luxurious by offering facilities of a Spa, Ayurvedic Massages, Kerala Massages, Beauty and Herbal Treatments to your mind, body and soul.
Hotel Address: Raj Palace, Jorawer Singh Gate, Amer Road Jaipur : 302002
9. RAMBAGH PALACE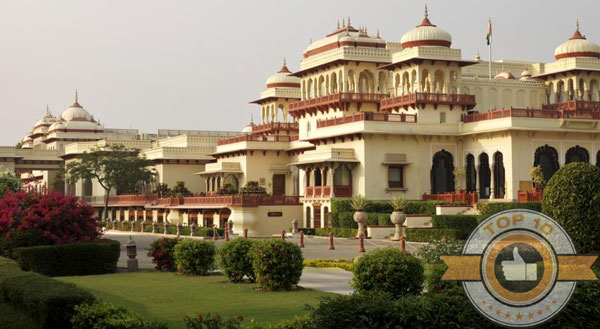 Rambagh Palace Hotel is located near Sawai Mansingh Stadium. It is closer to the main shopping areas and ancient monuments and well as to the domestic and international airports. The hotel has 45luxurious rooms and 33 suites with superb palace garden and Italian marble bathrooms with luxury bath facilities. There is fine-dining Indian specialty restaurant—Suvarna Mahal.
The hotel has free large parking facility. Hotel having a 24-hour business center, with six meeting rooms fully equipped with up-to-date conferencing facilities, free high-speed Wi-Fi, very big spa name is jiva Grande where to treat your body, 24-hour large gym with good machines, a big open-air and inside pool. 24 hour on call doctor & nurse.
Hotel Address: Rambagh Palace, Bhawani Singh Road, Jaipur, Rajasthan – 302005 INDIA
10. SUJAN RAJMAHAL PALACE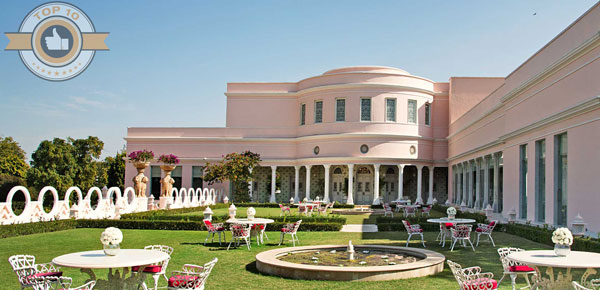 Sujan Rajmahal palace hotel is one of the classical & contemporary five–star hotel in Jaipur. Situated in the old town, Rajmahal Palace is a few minutes' walk from Jaipur's crenelated wall with its seven gates. Also within the wall are the Hawa Mahal and City Palace, the Govind Dev temple and bustling bazaars. Besides Royal Suites, there are four Palace Suites with generous bedrooms incorporating sitting areas, and five Palace Rooms which, while the smallest category, are palatial by any standard. Bathrooms mix tiles and marble and are enhanced by delicious rose and jasmine-scented organic toiletries in locally made marble flasks.
As the sun goes down, guests can sip sour lassi on the lawns, or a pineapple and cardamom martini in the Polo Bar, then head indoors to the Orient-Occident dining room to indulge in a Jaipur thali – an array of local delicacies. You'll find it easy to become accustomed to the maharajas' world in such splendid surroundings.
Hotel Address: SUJÁN RAJMAHAL PALACE, SARDAR PATEL MARG, JAIPUR 302001
---