Top 10 4 Star Hotels in Ahmedabad, Gujarat
Ahmedabad is the largest city of Gujarat which is well-developed with the Hotels, resorts, schools, hospitals, companies, small business, etc. In fact, it has emerged as an industrial and economic hub in India. Not only have the Indian tourists, foreign tourist visited this place to explore or to enhance knowledge about various Indian culture. Lets detailed out the best 4 Star Hotels in Ahmedabad which are well-infrastructured and maintained through modernized policies.
1. Prasang Presidency: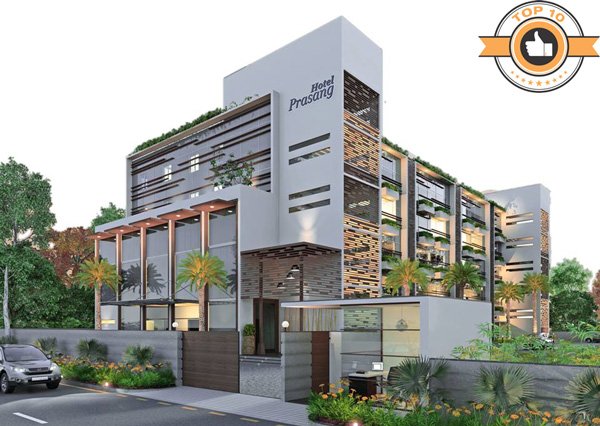 The evergreen hotel cum resort in Ahmedabad which will offer you the great feeling of lavish accommodation and best hospitality services. Celebrate family functions, get-together, wedding and corporate events all together at Prasang Presidency only. This 4 star Hotel is equipped with the deluxe room, executive suite and royal suite which are better classified as per the stay option. One can feel the exclusiveness through the entrance and availing superior catering services. This hotel is well known for arranging a wedding, corporate events, and huge parties. Royal interior invites celebrities to have a warm stay and to enjoy the superior services. In-House restaurant offers multi-cuisine Indian and continental food. Apart from this, it has its own business center with printing and photocopying facilities. It is a perfect place for the honeymooners, families and corporate delegates. Take the benefit of Fine dining, swimming pool, sports activities and 24 hours room services. Feel the exotic experience while staying and spending time here.
Prasang Presidency
RCTI College Road, OPP/Unique City Homes, Ghatlodia, Ahmedabad-61, Gujarat, India
2. Treebo Ambassador: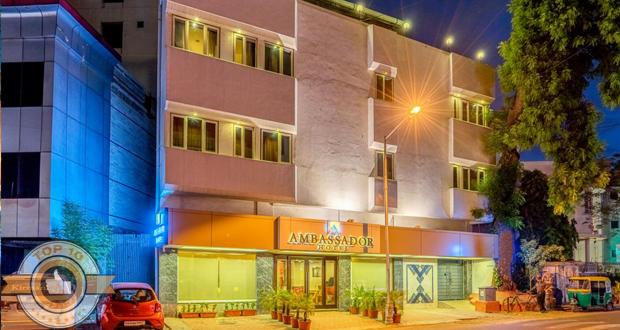 The beautiful hotel in Ahmedabad, close to the banks of River Sabarmati, a part of attraction. This Hotel is just 10 km away from the airport, 5 km far from the railway station. A luxurious staying option for family, couples, singles and business delegates at pocket-friendly pricing. The featured amenities includes free parking, 24*7 Room services, power backup, laundry services, breakfast and dine facility, wi-fi, LCD TV, Swimming pool, AC, ironing board, and much more. One can arrange a business meeting or corporate event at huge conference rooms, wedding or reception function at its banquet hall with lavish accommodation. The rooms are quite spacious with the beautiful view of the natural ambiance. Shopping destinations are just a few km far to enjoy shopping. One may also contact desk travel to arrange sightseeing or traveling.
Near Nehru Bridge, Khanpur, Ahmedabad, Gujarat 380001
3. Courtyard Marriott: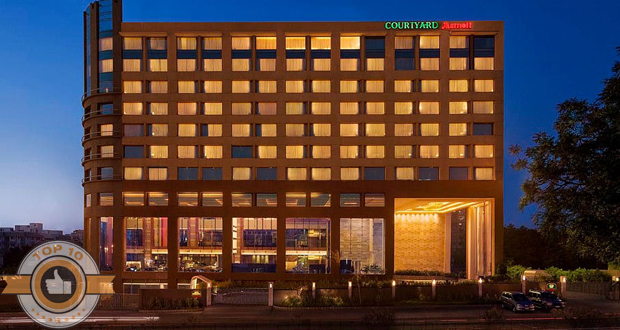 If you are searching for the leisure, then no place can be perfect like Courtyard Marriott. It resembles the high-class style and comfort. It is striving to make the guest feel more relaxed and refreshing. This is equipped with whole outdoor amenities like fitness center, swimming pool, spa, massage center, business center, parking, conference rooms, and indoor amenities like minibar, water bottles, electronic safe, iron board, coffee maker etc. This Hotel comprises 164 Rooms diversified into the deluxe room, executive deluxe, deluxe suite, and the executive suite with 24 hours room services. All rooms are spacious and well interior with the classy marble work and lavish bathroom. The couple may feel pleasure to spend their quality time. With the fine restaurants and fine dining from "Momo Café" and "Bayleaf", the hotels offering 24 hours services. So plan your tour to Ahmedabad.
Ramdev Nagar Cross Road, Satellite Road Ahmedabad 380015 India
4. Lemon Tree Premier: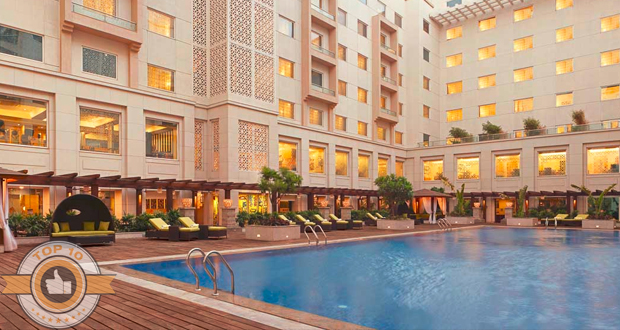 Your search for stylish and lavish hotels ends with this hotel. Yes, it is located on the bank of the Sabarmati River and it surrounded by the serene of water & Greenery. Lemon Tree premier: The Atrium, Ahmedabad offers top notch staying options with the modernized facilities & amenities. This hotel comprises 63 spacious rooms categorized into Deluxe Rooms, premier Room, Executive room, and Executive suite. These rooms are stylish, elegant and offering home-like comfort zone. The world class amenities or features includes Air condition, Swimming pool, Tea or Coffee maker, Fitness center, spa, conference rooms, electronic safe, wi-fi, business desk, transportation and much more. The Hotel is well suited for everyone who came in Ahmedabad for fun with family or works with corporate. Just book the hotel in advance with online booking services and avail discount on first cum first basis. Lemon Tree has its own restaurants and café to offer delighted breakfast, lunch and dinner with room services. Citrus café and Citrus Grill are multi-cuisine food options in this Hotel to offer Indian and continental dishes at the moderate price. Feel the pleasure of comfort and beauty.
LEMON TREE PREMIER; THE ATRIUM, AHMEDABADOff Nehru Bridge, Sabarmati River Front, Ahmedabad, 380001, Gujarat
5. The Metropole Hotel: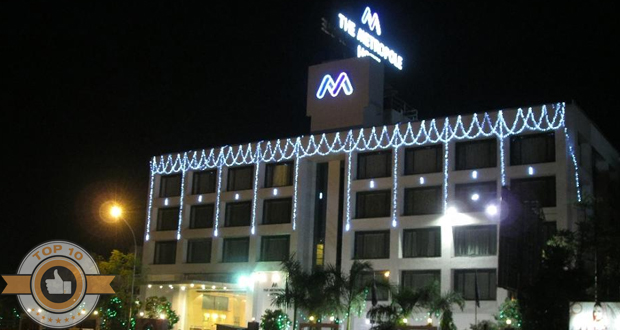 Business hotels are in demand nowadays and the Metropole hotel fulfills all the qualities which a business professional will seek for to accommodate his official delegates and clients. After all, business grows when we offer delighted services. This hotel is just 5 Kms away from the airport and located at the bank of Sabarmati River. People staying in this hotel can have easy access to shopping malls and business centers. Feel the international hospitality with the unique services offered by their well managed staff. The Metropole Hotel comprises 70 spacious and luxurious rooms and suites which are well categorized as per the pricing and amenities. The basic and advanced features include wi-fi, business center, spa, fitness center, iron board, tea or coffee maker, currency exchange, doctor on call, laundry services, valet parking, transfer facility, and much more. The metropole Hotel can be the best choice to arrange family get-together and corporate events at its banquet hall which are quite large and spacious. Enjoy fine dining and café breakfast with room services or take away. Feel delighted while spending time with lavish services and pocket-friendly pricing.
Address: THE METROPOLE HOTEL, near R.T.O. Circle, Subhash Bridge Corner, Ahmedabad-380 027. Gujarat, INDIA
6. Pride plaza Hotel: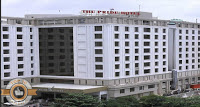 Plan your visit in Ahmedabad and Pride plaza will make it loving through the effective and elegant hospitality services in the perfect manner. Yes, the hotel pride offers 5 Star like feeling to business persons and family members. This hotel was a successful presentation by Mr. SP Jain who has been running a chain of hotels in multiple cities in India. The rooms are spacious and luxurious diversified into the deluxe room, superior room, premium room and the royal suite. All room has the option of king size bed or twin single beds as per the availability and requirements. The amenities includes are 24*7 room services, swimming pool, tea or coffee maker, poolside view, laundry services, spa and massage center, and much more. With having an exclusive array of breakfast, lunch, and dining, this hotel has to have its in-house café shop and Indian restaurant. "Angare" is a signature restaurant of pride hotel offering casual dining dishes and "Café Treat" offers multi-cultural snacks till late night to enjoy drinking altogether. One can arrange a huge family party and elegant corporate events, it does have huge space with trained housekeeping staff. So ease family function and business meetings with the exclusive catering and business center services.
7. Cama Hotel: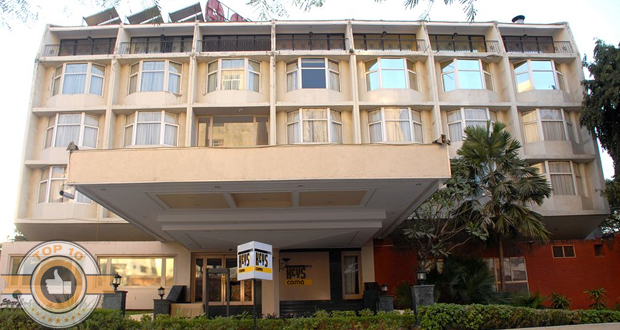 Are you a business traveler? Arrange a stay at Cama Hotel, located at the bank of Sabarmati, just beyond the ramparts of the old city walls. This hotel is another name of comfort and culture and just 11 km away from the airport and 3 km from the railway station. Established in the year 1960, one can feel the charm of greenery and blossoms. Whether you are looking to represent your company, arranging conferences or events, this hotel has the perfect solution for all of your needs. Boardroom, Oasis, Oak Room, are perfect for small to huge kind of meetings or events. Rangoli Lawn offers a magical night for the wedding with min 250 to maximum 750 gatherings or guest. Feel the ultimate luxury and relaxation. If we talk about the hotel rooms, it comprises 8 Deluxe King room, 14 deluxe twin room, 6 Superior King Room, 16 Superior Twin Room, 3 Superior Suite, 2 Deluxe suite, all are spacious, elegant with the perfect interior. Enjoy and avail the specific amenities like Spa, Gym, and Swimming pool along with the common outdoor and indoor facilities being provided by the Hotel. Our dining destination is 'La Vista" which offer multi-cuisine lunch and dinner with extensive choices and "Silver Leaf" – a 24-hour coffee shop with Indian, continental and Mexican snacks and cuisine.
Cama Hotel Khanpur Rd, Khanpur, Ahmedabad, Gujarat 380001
8. Eulogia: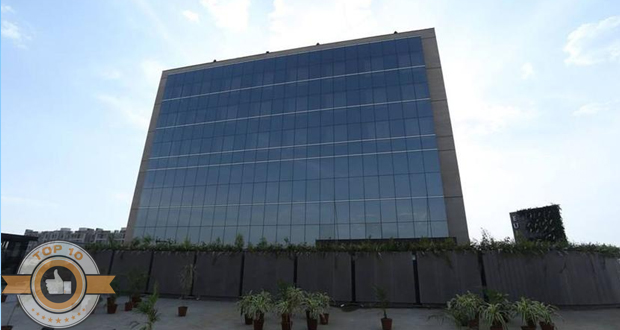 This name resembles the greek word "Eulogium" which means a place of worship or blessing. So this hotel is an endeavor of serene and soulful culture. It is equipped with 24*7 hour open reception and 45 ultramodern AC rooms diversified into various categories such as corporate deluxe room, family deluxe room, premier room, presidential suite, honeymoon suite etc. The in-house features includes double king size bed, wi-fi, minibar, electronic safe, ironing, hair dryer, water bottles, spa, fitness center and much more. It has two fine dining place- Celesta with 110 person Capacity and Privilege with 60 people capacity which offers multi-cuisine lunch, breakfast, and dinner with loving experience. One can also arrange the wedding or other family function in its two well interior banquet halls- Venetia with the capacity of 250 people and Grandeur with the capacity of 800-1000 persons. Book "Unwind" destination for kitty parties, birthday parties, and small get-together. "Splice" offers a space for corporate events, PR events and much more. "Topline" boost the business meetings with modernized facilities & housekeeping services. Make your day splendid with the luxury and comfort sprayed through this hotel.
Eulogia Inn Behind Silver Gardenia Apartment Opp. Safal Vivan Bungalow, Near Gota bridge, Gota, S.G. Highway Ahmedabad – 382481
9. Aarya Grand Hotels: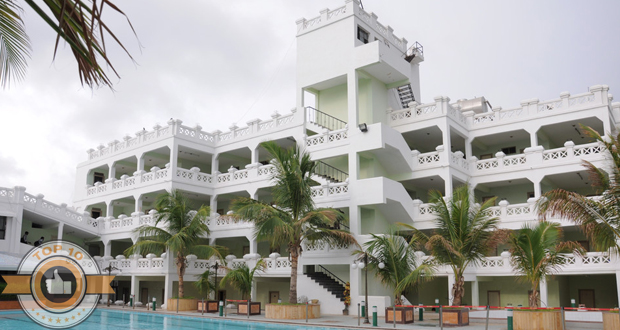 This hotel is located in the prime location of Ahmedabad which is designed in a stylish manner. Aarya Grand Hotel has 100 + rooms well signified into Deluxe and Suite rooms. Modern facilities are offered with the in-house room services and outdoor facilities of swimming pool, parking, spa, and gym center. It has its two spacious "Aagman" banquet hall and "Royal Symphony" Lawn to invite for the family function and even celebration. It has its own poolside lounge- Amnesia to relax and enjoy with view and food items. It has two beautifully designed fine dining restaurant and cafeteria – "Amazon" Cafeteria and "Ariva" multi-cuisine restaurant. This hotel is a grand presentation of Amrapali Group. Explore the lavish services of this hotel and offer feedback.
Aarya Grand Hotels & Resorts, Kargil Petrol Pump Lane, Near Gujarat High Court, S.G.Highway, Ahmedabad, Gujarat – 380060.
10. Radisson Blu: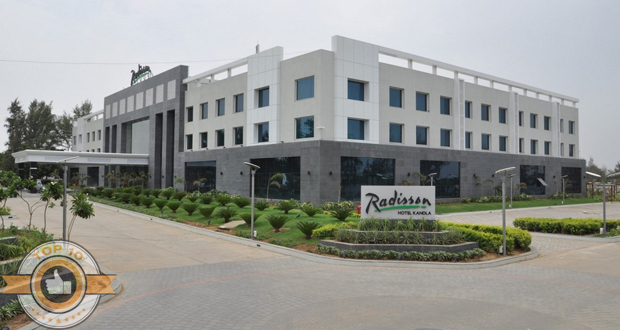 Radisson Blu- a well-known name in the Hotel industry. The hotel is quite near to Indian Institute of management (IIM), Gujarat University Exhibition & Convention Centre, Sabarmati Ashram and other shopping destination. So it offers an immense feeling while staying here. This hotel comprises 115 rooms and suites like a superior room, business classroom, executive suite, presidential suite, etc. which are well suited for families, business professionals, corporate, couples, and honeymooners. The excellent features are LCD TV, High-speed wi-fi, minibar, swimming pool, parking, spa, message center, electronic safe, and much more. In fact, an airport is just 20 minute far from this hotel so it also facilitates the transportation as well. There is the meeting room for business purposes equipped with modernized facilities. The "Timpani" and "The Great Kabab Factory" are the two main fine dining option in this hotel having multi-cuisine dishes.
Near Panchvati Cross Roads, Off C.G. Road, Ambawadi 380006 Ahmedabad India +91 7940501234
Explore Ahmedabad and its attraction point. This refined list of Hotels will facilitate the clients to find the most optimum and budgeted hotel comprising all the necessary amenities. Whether you are a corporate professional, family person, or honeymooner, These hotels offer a blend of perfect services.
---