Top 10 Water Parks in Mumbai
Hectic life has made us part of the entertainment and happy life. And at that point, Water parks work as Recreational activities to refreshen the mind & health. Mumbai is called the busiest City of India due to huge competitions and inflation. People managed to afford the entrance of water parks to make their family day. It was so awesome to spend quality time with the family and to memorize the same. But finding the best water Parks in India after comparing the pricing and attractions is a quite toughest job but to make it easy, we are mentioning the best Water Parks in Mumbai listed here:-
1. Shiv Ganga Park:-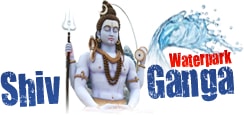 This water park is juts 4 km away from the Panvel St Bus Depo. It is spread over the 10 Acres of land consisting best ever opportunities like parking, Banquet Rooms, and Waterpark. Shiv Ganga Park facilitates Wedding, parties, fun, picnic, theme functions, corporate events and family get together. If we talk about the amenities, Shiv Ganga Park is equipped with parking, Garden, Canteen, Security guards, Ambulance services and much more as per the availability. Garden is decorated with artificial animal status and kids to offer a learning experience to kids. Shiv Ganga park has its separate package for schools & individuals. For private gathering, price varies to 750 – 850 Rs each comprising Adults & Child whereas School charges varies from Rs 400 to 600 depending upon the child age. The menu of the canteen includes Breakfast & Lunch such as Idli Chutney, Sambhar, jalebi, Papdi, rice, dal fry, various vegetable with paneer, pickle, chhachh, salad, cutlet, ice-cream, sweets, roti, paratha, chai, coffee etc, although menu can be changed as per the requirements of group gathering. If we talk about the rides, it includes Tube Slide, Rain Dance, Family Slides, Waterfall, Mini Train, Helicopter Ride, Elephant Ride, Horse Ride, Cat Ride, Car Duck Ride, Asin Mini Video Games, Basketball, Air-O-Hockey, Wave Pool, Multicolor Slide and much more. Catch this place for fun and joy at Shiva Ganga Park, Shiv Mandir, Somatne Gaon, Panvel, Rajgad, Mumbai
2. Adlabs Imagica:-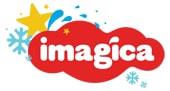 It is the best holiday destination for the people from Mumbai and Pune as it is offering a combo of fun and entertainment with multi-cuisine restaurants. It may prove to be the perfect weekend destination including standard theme park, snow park, Water Park and 287 room hotels. Adjacent to Imagica Theme Park is the Mykonos Imagica Water Park in Khopoli. This water park is equipped with 14 thrilling rides (Boomranggo, Floasta, Loopy Woopy, Raftaastic, Soakerz, Splash, Swirl Whirl, The Pirate Bay, Twisty Turvy, Wacky Wavess, Yell-O, Zip Zap Zoom, Zooballo) and 7 exciting restaurants (Ammos, Cones, Red Bonnet Express, Salty's, Sunbeatz, The Blue Stone café). One can plan a party night here with live DJ music & dance. Its snow park invites people to have fun for Snow Basketball, Slide down icy slopes in toboggans & rafts, climb the Rocky Mountains, and snowfall fights. This is the place where live music through famous celebrities is enjoyed. Just have lots of fun via Drink, Eat and dance. The entry tickets start from Rs 599 onwards depending upon the offers & seasons. Being located at 30/31, Khopoli-Pali Road, SH 92, Of Mumbai-Pune Express Way, Sangdewadi, Taluka Khalapur, District Raigad, Khopoli, Maharashtra 410203, it is easily accessible by Mumbai and Pune people. Schools, corporate and families spare their time to enjoy the water park and related activities.
3. Royal Garden:


Have the benefits of great attractions like Water Park, Amusement Park, 7D, the Jungle Kingdom along with the Hotels containing 62 deluxe rooms, 24 super deluxe rooms, 8 suite rooms and Conference rooms facilitating family functions and corporate events. Royal Garden is located 9km From Dahisar Checknaka On Mumbai Ahmedabad Highway, Before Naigaon, Taluka Vasai. If we talk about the water park, it consists of the wave pool, 16 slides, 4 swimming pools, rain dance, waterfall, dashing car and much more. It is having its internal restaurants offering Chinese, continental and north Indian food liked by Kids, Youngsters and Adults. The ticket can be bought for Rs 600 onwards. Royal Garden offers Pizza & Pasta Complimentary to the people enjoying park activities. It has been serving to all age groups and schools organize their picnic session in this royal garden. To cater the emotional and moral values, it strictly prohibits non-veg and alcoholic products inside the Park.
4. Suraj Waterpark:-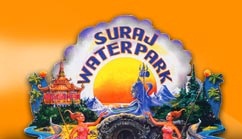 This one is the oldest and award winning water park at national & international level. It has won Limca Books of Records 6 times. It has spread over the 11 acres of land and beautifully created by Muchhala Magic Land Pvt Ltd and designed by Whitewater West Industries of Canada. It is well connected with the Thane & borivili. It is decorated with the fibre glasses and mermaids involving thrills & funs. Mr. Arun Kumar Muchhala, chairman of this water park offered the high level of creativity by adorning beautiful 24 ft high & 40 ft long mermaids, Museum of fountains, steamy spray or cooling water, beautiful images of Natraj & Shiva, 103 ft lengthy man-made fiber cave. It is worth spending a whole day at this reputed water park filled with fun & masti. When it comes to the ride, it offers amazing attractions including Ding-Dong-Sing-Song, Shiva Ganga, and Rainbow Slides, Dhadkan Sab ke Dil Ki, Ulat Patal, Wave Pool, Labak-Zabak-Matak-Slide, Rim-Zim Baarish Hall, and Museum of Antique Locks. The facilities provided by the Suraj Park are Changing room, shower room, costume shop, locker counter, music system, Centrally PA system, Fast food restaurants, doctor, and parking for around 200 cars. It also invites families for wedding functions & parties and corporate for events. The entry ticket to this park for visitors starts from Rs 650 onwards. Spend a day with loud fun & joy. Contact Suraj Water Park at MUCHHALA MAGIC LAND PVT. LTD. Ghodbunder Highway, Thane (W) – 400 615, India.
5. The Great Escape Water Park:-


People seeking to create happy moments should visit this park once. Great Escape Water Park is built over the 26 acres of land which offer sheer joy. It is the thrilling destination for all who are tired up with their routine and stressful life. Recharge and refresh with the thrilling masti and water rides. Breathtaking water rides and wave pool will gonna steal your heart & fear. Be crazy with your friends and families with DJ rain dance. People may book this park to arrange a huge gathering for up to 3000 guests. An ISO-9000-2008 company, it defines the state of the art culture & beauty. It's all time food menu includes Jalebi, papdi, Idli sambar, Upma, chutney, Tea, Coffee, Puri, Chhole, Sweet Dish, Papad, Pickles, Salad, Chaccha, Vegetables, Daal, Rice, pav bhaji, biryani, ice-creams and other Chinese & South Indian cuisines. The water ride pricing starts with Rs 750 onwards compelling fun features and including food. Corporate prefer to arrange their seminars, parties and events as it is filled with modern amenities & fun rides. To ensure more security & safety, CCTV & Gated security is facilitated. Schools do participate in the fun activities of Great Escape Waterpark at discounted pricing. Likewise, family & friends group comprising more than 25 people may be treated for group discounts. So be it birthday party, reception party or wedding party, contact The Great Escape Water Park at Parol – Bhiwandi Road, Off Vajreshwari Road, Bombay-Ahmedabad Highway, Virar (East), Thane, Maharashtra 401303. Enjoy water Rides and Amusement park slides with more fun and tasty food.
6. Tikuji-Ni-Waadi Fun Resort:-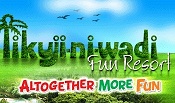 This family resort lies in the beautiful hills & green lush valley of Manpada Chitalsar thane. This will go to freshen you with the natural air and incredible entertainment. The village decoration will bring you closer with the Indian culture. Tikuji-Ni-Waadi has been founded by Late Shri Pravin Chandra A Parekh 30 years back & approved by Tourism Department, Government of Maharashtra. The whole concept lies between Water Park, Amusement Park, go-Karts, Kids Land, Dinosaur Park, Aquarium and much more. Its Amusement Park offers Pirate Boat, Pirate Treasure Ship, Airforce helicopter, Flying Castle, Dinosaur rides, Frog Rides, Duck Train, Funny & Bunny, Super jet, Kids Bumper car, Play Station, Safari Adventure, Climbing car, Fairy Train, Whirlwind Chairs, Tikus Aquarium, Luxury Carousel, Giant Wheel, Crazy Cup, Dragon Ship, Space Ship, Family Train, Animal Kingdom, Spin Coaster, Worm Coaster, Ufo Cycle, Bumper Boats, Go-Karts etc. It's Dinosaur World has highlighted Spinosaurus, Tyrannosaurus, Stegosaurus, Dilophosaurus, Pteranodon, Iguanodon. Its Water Park is offering fun water rides like Giant Slides, Wave Pool, Kiddies and Family Slides, Lazy River, Landscape Gardens and Aqua play Shop. Be crazy with fun rides and enjoy treetop restaurants with multi-cuisines. Tikuji-Ni-Waadi Fun Resort invited families for Birthday, wedding and family functions. School Picnic and corporate get-together can be more adventures and memorable. Contact it's at Tikuji-ni-wadi Road, Manpada, Chitalsar, Thane – 400607 to make advance booking at your side and feel the true nature.
7. Shangrila Resort & Water Park:-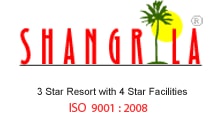 If you have not enjoyed the water splash of Shangrila, you are not yet complete. It is amidst the hills and nature with one hour drive from the suburbs of Mumbai. The whole water park is located over 15 acres of land and a perfect destination for families, Kids & corporate. The swimming pool has the depth of 41/2 feet so no only the Youngs, Kids can enjoy the thrilling splash with ma, pa, grandma, Grand Pa. Apart from the water splash, have the fun of flowing waterfall filled with hygienic water only. To add more fun like a Monsoon, just dance with the tone of rainfall with loud music. Live from your heart and live fully. It can be perfect destination for corporate guys who are looking for the conference hall for corporate meetings or association events for 75 to 100 persons. To make the meeting awesome, they provide White Board, markers, flip charts, collor Mike, writing pad, and unlimited beverages. Families would be more delighted with the premium stay at elegant rooms & suites to relax the mind and feel the comfort. As far as its Kids Zone, it offers the special play area for kids including Toys, play equipment, balls, toy horses, dinosaur, car rider, bike ride, video games, swing and more. Shangrila has in-house multi-cuisine chic restaurant with tempting menu & kid's special juices. To engage more visitors, it is having nearby shops to buy toy, cosmetics and general items. Just have more fun with rain dance, water slides, swimming pool while having cozy stay at the rooms. Entry ticket may start from Rs 650 onwards depending on the age group. Enjoy your weekends or weekday with family at Mumbai Nashik Highway, Bhiwandi By Pass End, Gangaram Pada, Vadpe, Bhiwandi, Dist. Thane.
8. Krishna Resorts:-


perfect combination of stay and fun, Krishna Resorts offer delighted stay with water rides to have fun and relax thereafter. It is located at Maljipada on Mumbai Ahmedabad Highway. It offers excellent amenities like Water Park, picnic spot, luxury stay, resto bar, swimming pool, garden-e-lawn, conference hall & in-house Restaurant. Be it family functions like birthday, wedding, anniversary etc or corporate events or school picnics or movie shooting, it will offer scenic view and memorable experience. The pricing will be starting from Rs 600 onwards depending upon the gathering. Have great fun via swimming, rain dance, slides and kids games. If we talk about the restaurants, it offers a perfect combination of veg & non-veg multi-cuisine. It do have Flute Conference hall with 60 members capacity, Opal Conference Hall with 40 participants, Zircon Conference hall for 40 people, Basuri Banquet hall for around 200 gathering. So make your fun destination at 22 Sai Krupa CS Road Novelty Petrol Pump Maljipada,Mumbai-Ahmedabad,Highway- No.8 Dahisar,(E)-Mumbai Taluka-Vasai 401208.
9. Essel World Water Kingdom:-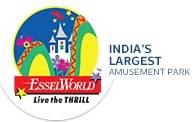 Water Kingdom is the part of Essel world which is famous Asia-wide since 9 decades. It has the perfect combination of Amusement Park & Water Park. With having around 10,000 employees worldwide, it has been growing day by day. With the establishment in 1926 by PIPPL (Pan-Indian Paryatan Private limited), it has been spread over 64 acres of land in Mumbai. The fun attractions of Essel World includes Shot N Drop, Top Spin, Monsters in The Mist, Ice Skating Rink, Bowling Alley etc. and so a perfect place for corporate, kids & families to have fun & thrilling experience. Water Kingdom spread over 22 acres of land with 30 attractions with 90 Lakh litres of water. Its wave pool is 100 meters wide and Aqua Play Pool- Lagoon spread across 30,000 sq ft. of the area. Goofers lagoon is launched for toddlers and other water rides are What-A-Coaster, drifting River, Mamma Miya, Bratzone, Adventures Amazonia, Wetlantic, Aqua Drome, Black Demon, Elephant Safari, Serpent Safari & Lots more. Its in-house restaurants include Dominos, TaiPan, Oh Mumbai, cat n Splash, Fun Sip, Kwality Walls, hangout, Kebab Corner, Thrill N Grill, Dip N Sip etc. The entry tickets may start from Rs 399/- onwards. Foods will be separate. Just visit this awesome place at Gorai Village Borivali West, Mumbai, and Maharashtra 400091 and add more fun to your bucket list.
10. Anand Sagar Water Resort & Waterpark:-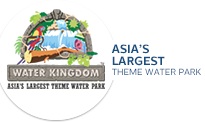 this one is the most affordable and less priced water park in Mumbai. This park is not that much huge and long but it is peaceful & convenient place for the families who are looking to celebrate their weekends. Anand Sagar Park has perfect kids play area where kids may enjoy swimming, rain dancing, swings and play with the games. This place is safe for kids. Its rain dancing area will please the family members and friends. Other additions like bridges, Dinosaur spitting out water, family slides will make the water park more interactive and fun filled. Anand Sagar offers AN & Non-AC rooms as per the budget of the visitors. Its restaurants offer tasty veg & non-veg foods at cost effective pricing. The entry ticket start with Rs 200/- onwards. Food package may be added to enjoy unlimited food services. Visit this resort cum Water Park at Off Anand Nagar MIDC Highway, Ambernath East, Thane, Maharashtra 421501, India.
Make your weekend, holiday more thrilling and adventurous, one must visit the mentioned best water parks in Mumbai. Add some fun in your life and say no to stress.
---