Top 10 Water Park/ Amusement Park in Delhi/NCR
Life would be so boring if no fun is present. Kids are busy with their study life, housewives taking care of the family members, youngsters are earning hard money for the future life and so on. Having the same schedule or routine life will abstract the interest from the work life as well. Machines can't be operated continuously; likewise, the human body needs a break to re-energize the body stamina which can be obtained through fun activities. No fun is complete without family members or friends so indulge with a group activity which can motivate you to work hard and can help to enhance the fun side.
We are highlighting some of the entertainment and fun spots in Delhi/NCR which are famous for adventurous activities. These are the perfect combination of water activities, swings, boating, swimming, rain dancing and much more. Join these adventure spots casually to forget the negative side of life. Take a chill time and break from the routine & stressful life.
1. Worlds of Wonder: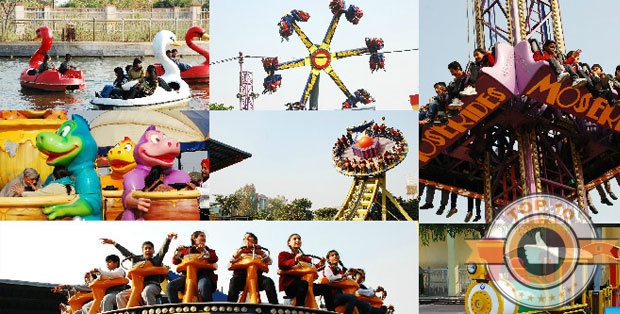 A fun place in Noida, which is famous for the high swings and water activities. It is an international attraction center in Delhi-NCR equipped with the fun activities related to Adventure Park, Water Park, and Go-karting. This being established in 2007, it has been offering 20 TÜV Nord certified rides, 26 world class slides, the largest go-karting track in North India, along with rain dance, largest man-made lake for an exquisite boating experience, 360-meter lazy river, and a beach themed wave pool. If you are looking for a chill place then it can be the better choice for kids, adults and youngs. It has two separate zones- The Road Show (thrilled actions) & La fiesta (perfect for families and kids). One may find 12-14 eateries with a perfect blend of drinks and cuisines to maintain the high stamina. Schools, colleges, families, products launches, musical concerts, live gigs, photo shoots, corporate visit this fun place on a random basis. It has separate banquet area to arrange the wedding, birthday, corporate events, award function, media coverage, theme parties and much more. There are various lawns names Jublee Lawn (2000-2500 capacity), Delight lawn (1500-2000), Euphoria Lawn (600-700), Gala Lawn (200-300), Viva Lawn (100-150). Opens daily between 10:30 AM – 7:00 PM
Worlds of Wonder Plot No. A2, Sector 38A, Behind The Great India Palace Mall, Entertainment City, Sector 38, Noida, Uttar Pradesh 201301
2. Oyester Beach: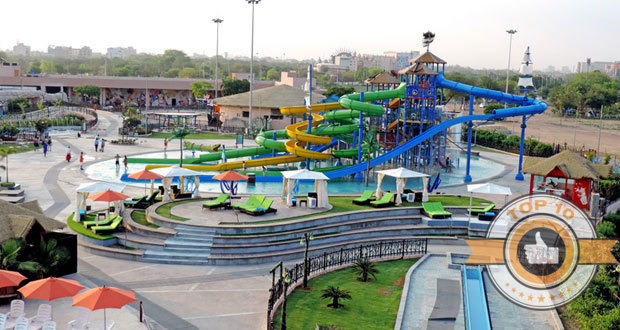 One another adventure spot in Gurgaon which is famous for its water rides and rain dancing. Enjoy the sea kind waves in this beach only. Haryana is far away from the scene of sea beaches but the oyster beach will give you an artificial feeling of spending time near SEA or Beach. It's the time to be craziest with unlimited fun experience. If you love water, you will definitely enjoy the water activities. The swimsuit is compulsory to enter in this fun place. It is equipped with the 15 water rides ranging from thrilling, daring, adrenaline pumping, steep falls to mindboggling rushes, Skyfall, pirate station, Typhoon tunnel, wave pool and rain dance. So much fun activities with quality eateries under one roof only. Make your summer more perfect with these water-related rides. This usually closed on peak winters. One can organize corporate events and family functions in winters also.
Oysters Beach Water Park Sector 29, Huda City Metro Station, Sector 29, Gurugram, Haryana 122009, India
3. Just Chill: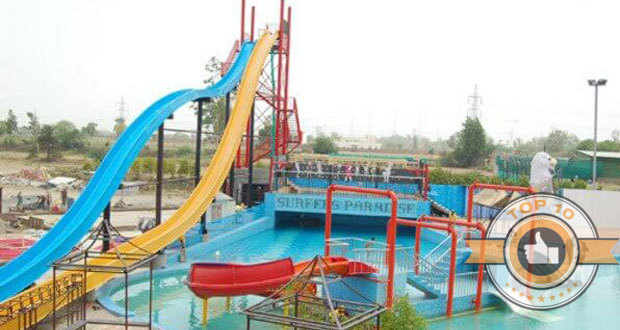 A perfect blend of water related fun activities and adventurous games can be seen in this place. Yes, Just Chill presents for you complete family package and corporate fun get together. It has the combination of water rides, amusement park, Edutainment Park, team building games, and other sports game which you have never seen before. The water rides include Singh Dwar, rainbow, Katrina-twist, Black thrill, Godzilla, Romeo Juliet, Friendship, Mini Aqua, Together, Surfer Paradise, Monsoon, Dark Hole, Zig Zag, Child Godzilla, Wave Pool, Space balls, Bullet. Amusement rides include caterpillar, Break dance, Swing chair, Columbus, Bull Ride, Mini Train, Aero Ride, Vortex. Edutainment park is launched to enhance your knowledge related to nature through Plantation, Animals, Goat & Cow Milking, EMU Australian bird, Spinning wheel, pottery wheel. Adventurous games include American Trolley, Rope climbing, Commando net, Commando Crawl, Tarzon Zipline, Tyre Crawling, Zipline, Burma Bridge, Wall Climbing, balancing walk. Team Building games include Matka Paintings, 3 leg race, Drawing making, Sack race, Treasure hunt, Lemon Race, Tug of war. Old Gold includes lattoo, Pittu garam, Aankh Micholi, Maram pitti, Kho kho and much more fun games. This fun place has captured whole the fun activities which also remind us of the childhood days.
Main GT Karnal Road near GTB Memorial Delhi – 110040 (India)
4. Splash Water Park: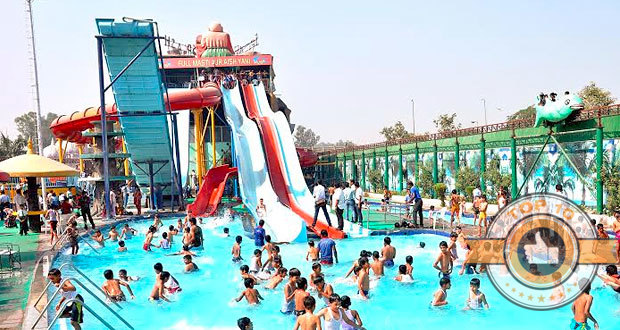 Splash Water Park is a presentation by Sagu Dreamland Pvt Ltd which is the perfect combination of Water Park and amusement park. It offers you ultramodern rides with thrilling excitement. Its water attractions include Multilane Slide, Octagonal Slide, Hara Kari Slide, Turning Point Slide, Pendulam Slide, Cyclone Family Slide, Body Slide, Wave Pool, Kiddies Pool, Tube Slide, Swimming Pool, Rain Dance, Lazy River, Budha Water Park, Mushroom Fall, Playpen. Apart from the water-related rides, Joy rides are dry rides with too much fun and joy which are Sky Train, Break Dance, Catter Pillar, Cup & Plate, Striking Car, Mini Columbus. Splash Water park is the fun center for the kids, families and corporate. One can arrange for the wedding, theme party, corporate event, birthday parties and much more. Join this and book the ticket online to have an advance booking.
Main GT Karnal Road Near Palla Moad Alipur Delhi – 110036
5. Fun N Food: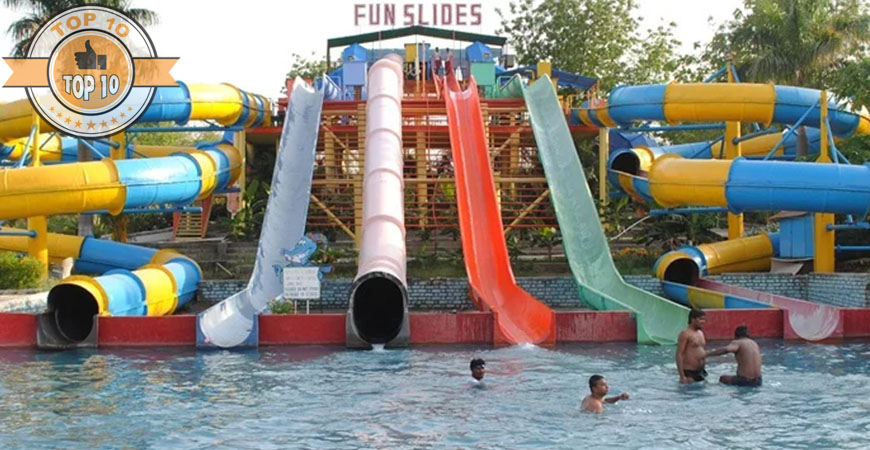 As the name suggest, space with full of fun and unlimited food items. Like other adventure places, it is symbolized as the best amusement and water park in Delhi/NCR. It is built under the flagship of Polo group of companies which offers the longest water channel (400 ft) known as "Lazy River. It is taken as the perfect picnic spot for kids, families and school events. Even corporate do attend this place for events and fun activities. Book the ticket online or through an agent and enjoy the adventure rides, water slides, kids water play area, cultural performance and much more.
Fun N Food Village, Old Delhi Gurgaon Road, Kapshera, New Delhi (India) – 110097
6. Aapno Ghar: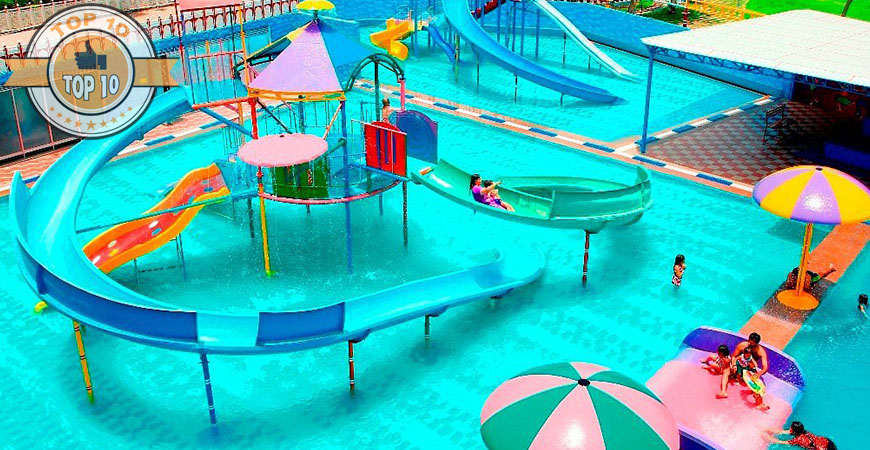 It is an ideal expression of beauty and harmony which is combined with the thrilling water activities and entertaining amusement park. It is built on the 9-acre land 20 years back and known for its ethno-modern luxury resort. It is one of the oldest amusement parks in Delhi/NCR which is introducing the true thrilling activities mixed with fun. Being having the lush greenery and huge space, Dussehra festival is celebrated while burning the Ravana, Meghnad, Kumbhakaran. Aapno Ghar offering perfect blend of amusement park offering 21 thrilled rides like Caterpillar, Baby Train, Western Train, Round About, Flying Bob, Break Dance, Coin Operated Rides, Pan Ball, Drum Run, Bhul Bhulaiya, Stage Activities, Columbus, Mono Cycle, Merry-Go-Round, Super Trouper, Flying Dish, Water Merry-Go-Round, Jet Plane, Commando Net, Puppet Show (Seasonal), Kids' Play Pan. When it comes to water-related joy, It has been offering ultimate water activities like Turbo Twister Slide, Family Fun Slide, Aqua Tube Slide, Mist Rain Dance Pool, Family Play Pan, Rain Dance Pool, Rain Shower Pillar, Kids' Play Pan, Water Mushrooms, Giant Tipping Bucket, Children Water Play Ground, Changing Room facility, Music with Fun Activities and many more. It has its own restaurant by the name of BAZA Restaurant which offers multiple ranges of cuisine ranging from North Indian, South Indian, Chinese and Continental. MadhuShala Bar reflects a bar ambiance for lovers and romantic couples. If someone gets tired or planning to arrange a stay, it has 42 spacious rooms in its subtle resort differentiated in Suite, Luxury & standard. It's party lawns and banquet hall is perfect for kitties, birthday, family picnics, wedding and much more. Corporate can conduct their corporate events and can arrange their official meetings at the conference halls available in Aapno Ghar.
Aapno Ghar / Airport Motel Amusement & Water Park 43rd Mile Stone, NH-8 Delhi – Jaipur Expressway, Sec-77 Gurgaon, Haryana
7. Family Kingdom: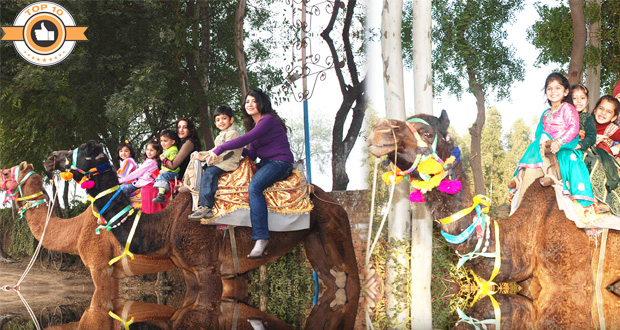 If you are looking for Indian tradition and cultural place in Delhi/NCR, then the Family Kingdom can be that ideal place. Yes, it has 2 spacious lawns and party space where around 2500 guests can be accommodated. So if you are planning to throw the cocktail party, or arranging product launch party, celebrating the birthday or corporate event, organizing the wedding, reception sagan, sangeet, mehndi, ring ceremony, this place is the perfect blend to make your evening more beautiful. You will have the choice to ask for your choice and likes and we make sure to offer that decoration and beverages and catering. The Family Kingdom is equipped with swimming pool, wedding lawns, banquet halls, conference halls, food junction. The key attractions are DJ Music, Been and Dholki Dance with live performers, Camel cart ride or Bullock cart ride or Tractor ride, Ethnic Games- Gilli Danda, Pithoo, Lattoo, Kanche goli, Archery, Gulel (sling shot), sprotsDart shooting, Air gun shooting, Kushti, Kabbadi, Kite flying, Tug ofsportsactivities & indoor games, Natural beauty care and Relaxation activities – Mehndi (henna application), mud and gulabari packs, mud bath and tube well bath. It has recently launched its water rides as well to make it live for every season whether it is summer or winters.
The Family Kingdom – Village Seekri, Delhi Mathura Road, Faridabad, Haryana India
8. Adventure Island: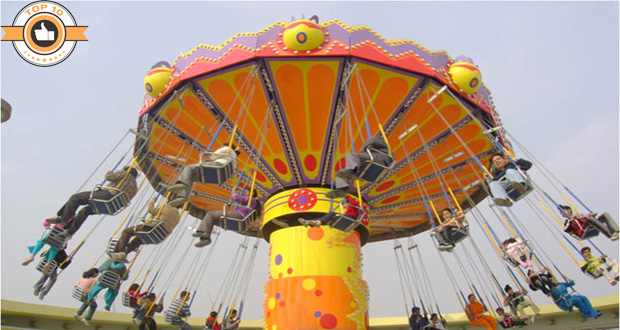 A perfect mixture of joy, fun, shopping, fooding and much more. The part has been divided into two segments- Metro walk & Adventure Island. Metro walk is famous for showrooms where branded shoes, apparels, eateries etc are found. Adventure island designed by international team Forrec Canada, management Resources Callifornia, Electrosonic USA, City design group USA, Dew Canada, TUV Germany. The adventure rides has been categorized into Adult & water rides which are as follows: Z-Force, Side Winder, Sky riders, Lightening Bolt, FlipOut, Twister, Space Jump, Climbing wall, Wild Wheel, Splash Down, Aqua bump, Splash Dunk, Swan Boat, Water Coaster, H20, Cyclone, Air Pogo, Derby Devils, Wave rocker, Kids Bumper cars, Bungee Trampoline, Tiny TV Transit, Fire brigade, Bush Buggies, Jungle maze and other mind blowing activities which can energies us. It accepts the bulk booking also at discounted prices.
Adventure Island Limited opposite Rithala Metro Station, Sector-10, Rohini, New Delhi-110085
9. Jurasik Park: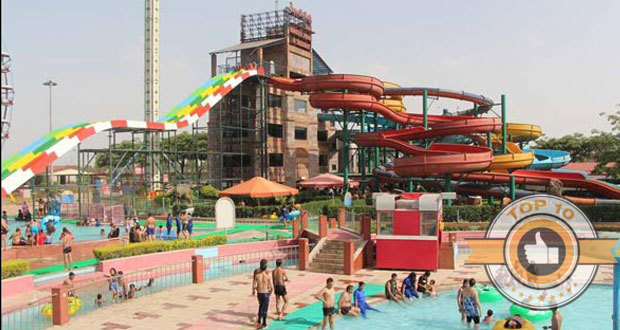 It is an ultimate destination for fun, thrill, sheer excitement & real entertainment for family, kids and adults. Its reveals the story behind Jungle world years back. The main attractions are Wave Pool, Kids pool, Lazy River, Rain Dance, 70 feet High Waterfall, Giant Wheel, Free Fall, Fris Bee, Bump Car, Swing Chair, Bull Ride, Jumping Frog, Merry Go-round, Roller Coaster, baby Traing, Aero Ride, Octopus Ride, Horse & camel Ride, Mini Columbus, Cup Plate, Mini Train, Commando Net, Go karting, Adventure Zone, Restaurants, 7D Theatre, Zipline, Tyre net, Balance Beam, Zorbing balls, Pressure rocket, dart Throw and much more.
G.T. Karnal Road, National Highway 1, Near Omaxe City, Sonipat, Haryana 131021
10. FFunmax: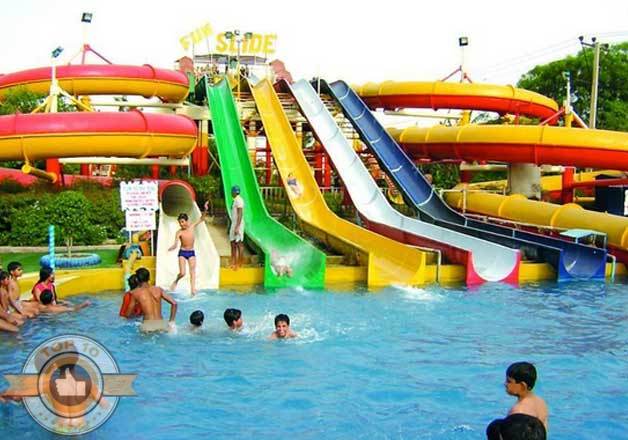 Another fun destination which is well place for water related rides. Apart from water activities, one can book this place to arrange wedding, birthdays, corporate events and much more.
FFUNMAX 42 Milestone, Main Mathura Road, Behind Royal Villa Banquet Hall, Village Sikri, Faridabad Haryana INDIA
There is no age to enjoy and have joy in your life. If you looking for the fun activities, you will have to spare such time. So forget the worries and participate in these thrilling activities.
---