Top 10 Places to visit in Nainital
Nainital is a popular hill station in the state of Uttarakhand. It is famous for its various natural attractions. Here is a list of top 10 must visit places of Nainital for trip and vacations.
1 Naini Lake: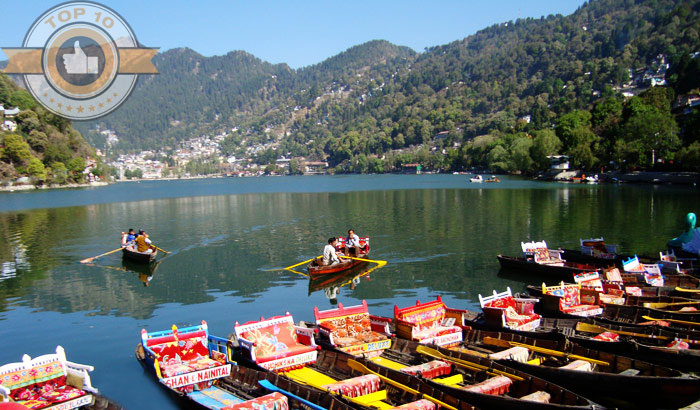 This beautiful lake in the heart of the city, is surrounded by seven majestic mountains. Nainital is named after the Naini Lake. Still water of Naini Lake makes visitors to fall in love with its alluring beauty. Nainital visit can't be completed without a boat ride in the Naini Lake. Visitors can enjoy row boating as well as paddle boating in the lake. And a slow paced stroll around the lake also offers a serene relaxation.
2. Naina Peak:
Also known as China Peak by the locals, Naina peak is the highest peak in Nainital. It is situated at an average elevation of 2,615 meters above sea level and is a popular trekking spot in Nainital. From the top of Naini peak, one can witness the beauty of the Himalayas with closeness. Bird's eye view of the Nainital city is magnificent from the Naini peak.
3. Tiffin Top or Dorothy's seat: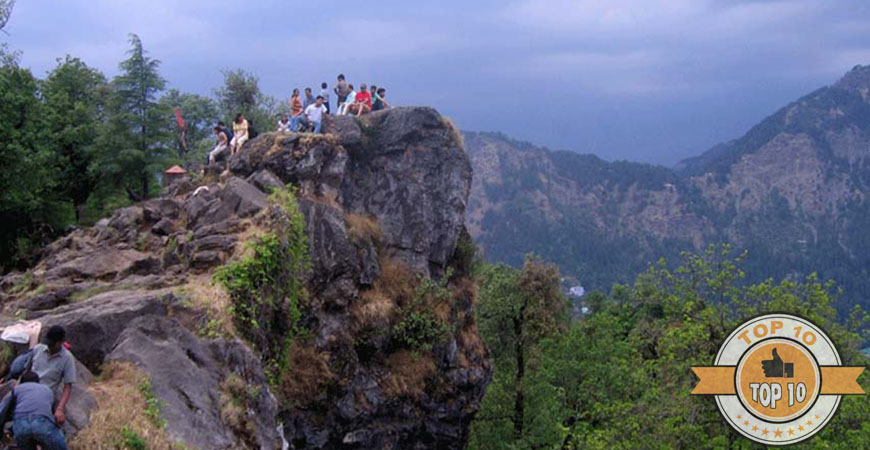 Located at the height of 2,290 meters on Ayarpatta hill, Tiffin Top is a famous view point of Nainital. It is also known as Dorothy's seat. The place is named after an English painter Dorothy Kelet who used to sit at this very spot and paint. Developed as a family picnic spot, Tiffin Top is the name assigned after people used to have day lunch at top of hill on Dorothy's seat. It is located at 4 Km from Mall Road of Nainital city. One can reach Tiffin Top by trek or on Pony from Nainital bus stand.
4. St. John in the wilderness: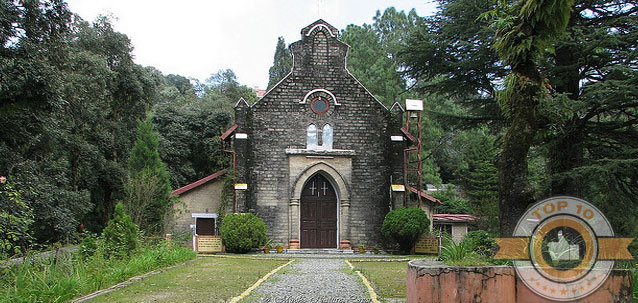 It is one of the finest churches in any Indian Hill station, located on the north end of the town in a hidden and serene location amidst the deodar forests and built in a Neo-Gothic styled architecture with stained glass windows from Belgium. The church was named after the bishop of Calcutta who came to Nainital in 1844, when the place was still very much a wilderness.
5. Pt. G.B. Pant High Altitude Zoo: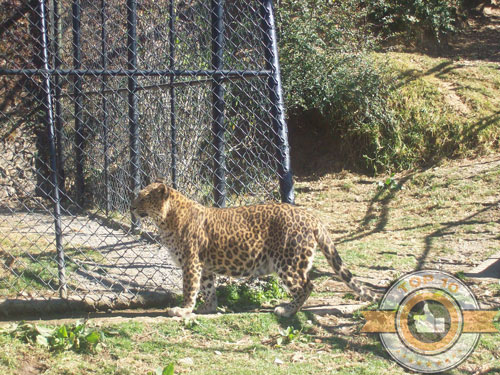 Located at an elevation of 2,100 meters above the sea level, on the Sher ka Danda hill, between Shivalik and middle Himalayas, this zoo was established in 1984 and was opened to general public in 1995. The zoo has several exotic and endangered species of animals and birds such as Snow leopard, Himalayan bear, Tibetan wolf, Sambar, Leopard cat, Kalij pheasant, Lady Anherst pheasant, Rose ringed parakeet, Golden pheasant and Red jungle fowl. It is spread over 4.6 hectares (11 acres). It is the only High Altitude Zoo in north India, besides those in Darjeeling and Sikkim. The zoo has a forest cover of evergreen oak, curpresses and two other species of oak. The zoo is located about 2 kilometers uphill from Tallital bus station in Nainital. There is a steep motor able road leading to the zoo, through many tourist walk up the hill.
6. Gurney House: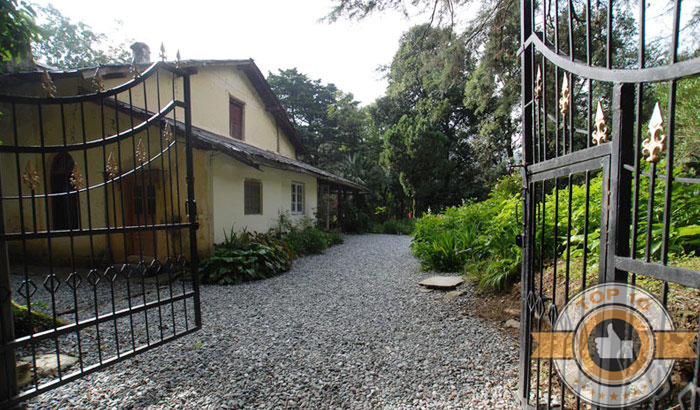 Gurney House is a historic building located in the Ayarpata slopes. It was the residence of renowned hunter- conservationist and writer Jim Corbett, and was built in 1881. Jim Corbett lived in this cottage with his sister Maggie Corbett. It has been converted into a museum now and is known as the Jim Corbett museum as well.
7. Snow View Point: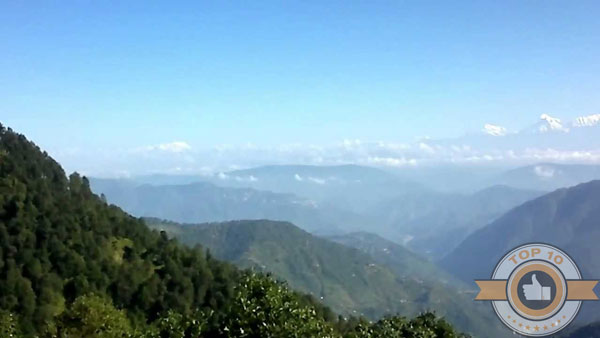 Snow View point offers tourists an excellent view of snowcapped mountains like Nanda Devi, Trishul and Mount Kot. Located at the height of 2270 meters, Snow view point is well connected by road but an adventurous ride through aerial ropeway from Nainital is always worth it. It can be reached by trek, by pony or by ropeway. It is one of the most visited tourist spots of the town.
8. Pangot and Kilbury Bird sanctuary: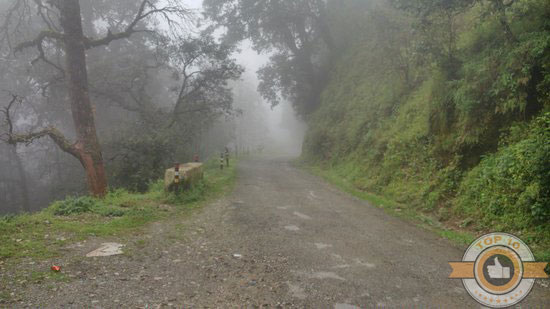 Pangot is a small and scenic hamlet located 12 kms from Nainital and is known as bird watcher's paradise. Approximately 580 species of birds are found here. The area is excellent for wooded walks, treks and overall nature centric experience. Known as Kilbury bird sanctuary, this destination can be reached by taxi from Nainital.
9. Nainital Governor's house: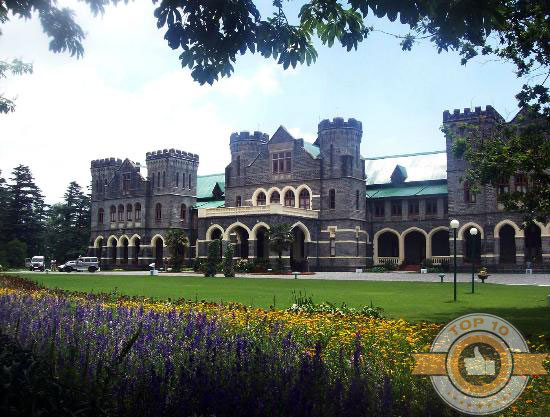 The Governor House, also called as Raj Bhawan is a British era building. It is known for its magnificent look and old age charming architecture. It was built in the line of Buckingham Palace London and has served as summer residence of British Governors. Raj Bhawan is located in splendid landscape and spreads across 220 acres. It consists of a marvelous garden, Golf links, swimming pool and is covered with lush green area of Deodar and Oak trees.
10. Land's End: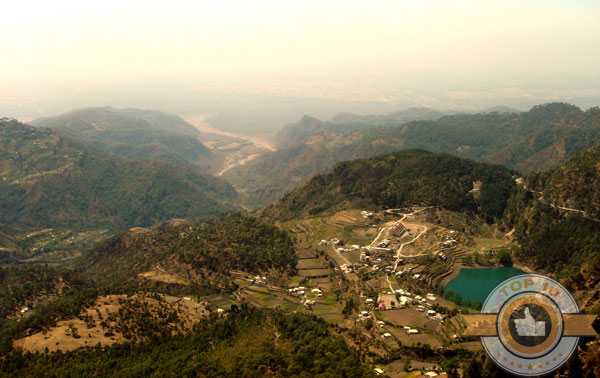 Land's End is at about 4kms from Nainital and provides a magnificent view of the plains and the beautiful Khurpa Tal, surrounded by beautiful village and pine forests. The best feature of the spot is that one does not have to climb much and as the name suggests, one feels on reaching the area that the end of the land has really come. It gives the exquisite view of the neighbouring hills and valley and the Khurpatal Lake. It is an easily reachable spot and does not need a long or steep climb. One can go to Barapathar on a vehicle and then walk about one km up to the spot. It can be visited on foot or on horseback.
Nainital is a city of breathtakingly beautiful tourist destinations. Besides these places there are so many other beautiful spots in and around Nainital like Goddess Naina Devi Temple, Hanuman Garhi, Astronomical Observatory, Eco cave park, Himalaya mini golf, Kainchi Temple and ashram, Himalayan center of Sri Aurobindo Ashram, Sattal Christian Ashram, Himalayan Botanical Garden, Bhimtal Lake and Naukuchiatal. Nainital is full of amazingly beautiful places.
---