Top Online Cake Delivery Shops/ Bakery Store in Delhi
---
Fond of desserts? Looking for the best bakery shop India Delhi? Here we are listing out some popular bakery shops in Delhi who are dealing with the delicious cakes along with the other bakery items in Delhi.
1. Keuchen Paradise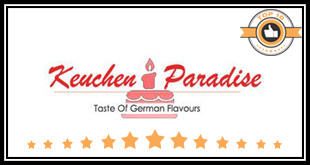 Have an exciting taste with German flavors through Keuchen Paradise which is a Delhi based bakery shop. Keuchen Paradise is being successfully run by Mohit Mittal who serve the clients with a warm heart and a smiley face.
This shop values the clients so offer the best possible quality with best design and premium ingredients. The key specialities of this cake shop are kids cake, photo cake, premium cakes, tier cakes, wedding cakes, and the perfect combination of flowers, chocolates, soft toys. Keuchen Paradise offering for the various occasion like birthday, wedding, anniversary, new year, Christmas, Raksha Bandhan, Mother's Day, Valentine, Father's Day, corporate events and much more. Whether you are seeking for the bulk quality or placing an order for a single cake, Keuchen Paradise is the best option.
Keuchen Paradise strengthening the relations while giving surprise to your dear ones with the midnight cake delivery and instant delivery options with no shipping charges. This company delivering the cakes across whole Delhi and having its outlet at two different locations at :- Location 1 : K-21 Connaught Place, Delhi-110091 Location 2 : A-7 Acharya Niketan Mayur Vihar Phase-1
2. Whipped
Whipped, another popular online bakery store in Delhi which is a unit of SWS Hospitality Pvt. Ltd. The bakery store believes in gaining the trust of the clients so offers delicious, trendy, exciting flavors with the combination of cheesecakes, cupcakes, eggless cakes, cake in a jar, designer cakes. To make the occasion more happening, Whipped also delivers the gifts, flowers , soft toys with the wonderfully packed combo. The client will be served with the cake which is never tasted before to experience the best moment. Enjoy your personal function or corporate event with the help of whipped. Location : E-556, Greater Kailash II, New Delhi, 110048, India
3. Online Cake
A Delhi-based bakery shop which has been covering the areas of Pune, Jaipur, Gurgaon, Ghaziabad, Bangalore, Faridabad, Noida and Bhopal. This cake shop is famous for its quality cakes promising better taste with best of the designs. Online cake offering regular cakes, kids cakes, photo cakes, eggless cakes for several occasion and festivals. With offering the cakes, the company specialized in the customized cakes and delivering a combo of flowers, chocolates, soft toys, greetings cards on the demands of the customers. To facilitate the local clients, Online Cake delivering cakes even at midnight to make the surprise delightful. Regular clients may avail the discount offers on the casual basis.
Location 1 : Mayur Vihar Phase -1 Near Acharya Niketan 110091 New Delhi 110091
Location 2 : T-3, Jagaran Chowk, Shukar Bazar, Uttam Nagar 110059 New Delhi
4. The Cake Xpress
A cake manufacturing company featured in quality, taste, and designs, offing wide range of premium cakes all across Delhi/ NCR. As a whole, the company sells designer cakes, normal cakes, eggless cakes, flavored cakes for several occasions like anniversary, birthday, Father's Day, Mother's Day, friendship day, Valentine's, get well soon, sorry, baby shower, new year, Christmas, women's day, wedding, teachers day and a lot. The Cake Xpress delivering yummy cakes with the combination of teddy, chocolates, greetings cards, flowers. Surprise your dear ones with the perfect combination being designed through The Cake Xpress. One may order customized gift for father, sister, mother, brother, partner and friends. Cherish the moment with the cake Xpress having service areas of Delhi, Faridabad, Ghaziabad, Greater Noida, Gurgaon, Mumbai, Navi Mumbai and Noida.
5. Wish A Cup Cake
Let's true your wish with the customized cakes of never seen flavors like almond, banana, blueberry, butterscotch, carrot, cheesecake, cherry, choco chip, chocolate, cinnamon, coconut, nuts, pineapple and much more. Just explore the online store to find the vibrant flavor and unbelievable designs. Make your occasion memorable with regular, or customized cakes being offered through Wish A Cupcake.
To surprise your dear ones, the online bakery store serving the cakes with flowers bouquet made of lilies, orchids, roses, etc. Gift a smile with the sweetness and fragrance delivered through Wish A Cupcake. It accepts the cash payment and other online options as well to facilitate the clients. Be happy and make other happy.
6. Nathu Sweets
Nathu Sweets was famous for its sweets and namkeens but later, to compete with the trendy market, it has started its bakery shop for cakes. Now it is dealing the clients through an online portal. With the establishment in the year 1939, it has gained the trust of customers in terms of quality services and better tastes. Nathus is being managed by husband-wife named Anand Gupta and Navita.
Apart from the bakery items, Nathu Sweets has extended its services to other products like snacks, chocolates, food thali and others. Regular customers are facilitated with gift vouchers and special offers. It is having its outlet at 2, Sunder Nagar Market, New Delhi – 110003, India.
7. Delhi Cake Shop
Like other cake shop, Delhi Cake Shop is one of the prestigious cake shops in Delhi offering diligent and decorative cakes without compromising the taste and quality. Delhi Cake Shop offering branded cakes like sugar free cakes, wedding cakes, tier cakes, heart shaped cakes, photo cakes, cartoon cakes and many more. To make the occasion special and joyful, Delhi Cake Shop delivers flowers and chocolates on demand of the customer. Customized gifts are ever surprising and when it comes to corporate gifts, the bakery store provides guarantee for taste and bulk facility. The physical cake outlet is located at 57/17, old Rajinder Nagar, Delhi. Fulfill your bakery needs and order dry fruits through Delhi cake shop at reasonable prices with fastest delivery services. Please your dear ones with the gift services.
8. Avon Bakers
It is one of the oldest organization dealing with the bakery items with the finest quality and premium cakes. Avon bakers & confectioners established in 1965 by sh. Jai Dayal Mirg and now run by his sons. It was first launched in Meerut and later, spread in Delhi/ NCR . Apart from the cakes, Avon Bakers are dealing with butter eggless biscuits and other bakery items. Whether it is birthday, wedding or anniversary, you are celebrating get together or corporate event, planning to have snack in the morning, Avon Bakers is the perfect option for the family members and fun lovers. Just call or make order online and find your yummy cakes at your doorstep only. It's head office is located at 2232, 3rd floor, Outram Lines, GTB Nagar, New Delhi- 110009.
9. Yummy Cake
The family business performed well with the help of stakeholders. You can order vibrant cakes varying from multiple flavors like chocolate, butterscotch, vanilla, fruit, Black Forest, fondant in different size from half kg to 3 kg and more. Yummy Cake is specialized in delivering the designer cake, photo cake, cartoon cake, premium cakes and combination with flowers and gifts. Though it is serving to whole Delhi NCR though it has a strong network over Noida, Badarpur, Kalk aji, Sarita vihar, Okhla, Mehrauli etc.
One can seek for the occasion or festive specific cakes online in Delhi. Order 3-4 hours before to get the fresh and customized cake at your doorstep. Yummy Cake is located at 285, DDA Flat, Surajkund Road, PulPehladpur, New Delhi – 110044. Send your feedback and suggestion to towards improving the quality and designs.
10. Dial A Cake
An online platform which is famous for delivering the cakes as fast as possible without cutting the quality and taste of the cakes. Dial A Cake was established in 2012 with the two partners. Slowly and steadily, the company has covered the nearby market of Delhi, Gurgaon, Noida, Dwarka, Ghaziabad, Najafgarh, Faridabad. To increase the clientele, this bakery outlet offers timely discount or coupon code to gain the interest. Till present, dial a cake offering multi-variety cakes like premium cakes, kids cakes, photo cakes with different flavors of chocolates, pineapple, vanilla, strawberry, and a lot.
The online bakery store also famous for the quick and midnight cake delivery services in Delhi with less or no shipping charges. It facilitates cash on delivery with other payment options like debit card, credit card, net banking etc.
Note:- The mentioned list belongs to 2016 which was based on online presence only. Nomination for 2017 is going on!! The selection criteria will be based on Physical Presence, Online Presence, Rating & Reviews!! To register your profile, mail us at admin@top10company.in, our representatives will contact you soon.
---