Top 10 High Rise Commercial Buildings in Gurgaon
Top High-Rise Commercial Building in Gurgaon (Gurugram)
Gurgaon- One of the most developing cities in India which has become the key attraction point for start-ups and MNCs. Yes, number of immigrations is increasing day by day due to development of residential and commercial apartments. It seems to be costly but it is all about the lifestyle. Gurgaon is a mixture of Modern and traditional approach which helps the city to overcome the hurdles. In fact, as per the commercial study, it has become the most popular IT hub in Indian. Fastest growing companies and emerging of startups are the proof of its growth and popularity. No one had imagined the appearance of Gurgaon like a foreign country which it is having as of now. Let's have a look on the High-Rise Commercial buildings in Gurgaon who are inviting start-ups and MNCs to operate their businesses or who are indirectly playing a huge role in the success of Gurgaon:-
1. One Horizon Center:-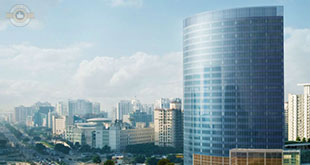 This Building is located in the heart of Gurgaon. It is the huge commercial building ever in Gurgaon which is presented or developed by International Real Estate Firm "Hines" with the partnership of Indian Real Estate Giant "DLF". If we talk about the interior and exterior of the commercial building, it is all designed by the world renowned Robert A.M Stern Architects. One Horizon centre is awarded as the 'Best Commercial High Rise in India" at the "Asia Pacific International Property Awards 2013-14". It also follows the international standards of LEED Gold and fulfills the criteria of having eco-friendly environment. It is the live example of technology, elegance, safety and sustainable designs.
This 25 storeyed high rise building spread over 11 acre or 8,80,000 Square Feet land across the DLF Commercial & Residential Area. It has close proximity to Airport, NH-8, MG Road, & Metro lines. Fortune 500 headquarters, shopping malls, stylish restaurants, hotels can be found in walking distance. One Horizon centre comprises Retails Shops, Business Centers, Offices, Public Plaza, banks, rooftop helipad. Popular Brands like Vistara, GlaxoSmitchKline, Apple Inc, American Express, Coca-Cola, Zamato, British Council are having their commercial operating centers in this building only.
Address:- Golf Course Road, DLF Phase- V, Sector 43, Gurgaon
2. Two Horizon Center:-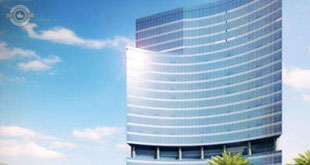 It is the live example of commercial development and the second huge building in Gurgaon located at most promising corporate destination. Two Horizon centre fulfills the criteria of international standards. Being located at DLF 5, Ch. Raghvendra Singh Marg, it has the easy accessibility with the metro station, rapid metro, International Airport, railway station, NH-8, Bus stand & luxury residential projects. This commercial project headed over 14 acres or 5.58 hectare Horizon centre Complex. The architecture is designed with artistic approach while keeping in mind the minor consideration as well. If you have a zeal to grow or passion to accomplish something big, occupy a place in this prestigious building.
If we talk about the general facilities, it is equipped with the high-speed lifts, open lobbies, waiting lounges, 24*7 Power back-up, parking, centralized AC, fire alarm systems, CCTV Surveillance, earthquake resistance layer, 4.2 metre ceilings heights, etc. This 25 storeyed high rise building is the joint venture of Hines & DLF and so offering indo-western touch. The whole concept is designed by USA based James Burnett while adding on the features of restaurants, high end retails shops, business centers like Corporatedge and much more.
Address: Golf Course Road, DLF Phase-V, Sector-43, Gurgaon
3. DLF Epitome:-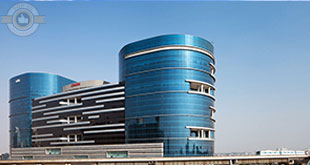 DLF Epitome invites startups and brands to operate their business activities. It is directly linked with Delhi- Gurgaon Expressway and has close proximity to NH-8, Airport, Metro, 16 Lane Toll free roads, Rapid Metro, DLF Cyber City. This technologically sound building offers state of the art amenities and professional workplaces to IT companies, MNCs and Start-Ups. DLF Epitome offers modern amenities like100% Power Back-up, separate passenger & Service elevators, fire detectors, CCTV Security with Gated security, fine dining restaurants, recreational activities, F & B, Gymnasium, Stationary Shops, Food Court, and Banks & ATMs. The whole building covers 2 million Sq Ft area including 1,50,000 Sq Ft. of Contiguous space & 43,000 Sq Ft. for Retail Shops. It comprises of 3 basements & 6 podium levels for car parking.
DLF Epitome has been designed by the renowned Architect – Hafeez Contractor. To protect the people and to offer high standard of security from the natural disasters, Seismic Zone V structure is designed. One may find the prestigious business centers like Corporatedge offering premium Office space solutions. It has been certified as LEED Platinum by USGBC (United State Green Building Council)
Address: DLF Epitome, Building No 5, Tower-A, 15th Floor, DLF Cyber Terraces, Phase III, Sector 19, Gurugram, Haryana 122022
4. Unitech Global Business Park:-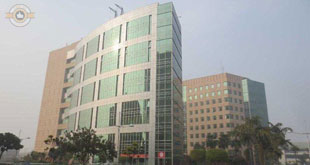 Unitech Global Busines Park has been divided in to 4 Blocks or buildings – A, B, C & D. A & B Units of Global Business Park comes under the low rise buildings comprising 10 floors each whereas C & D are recognized as High Rise commercial buildings in Gurgaon comprising 16 floors each. This commercial building speaks about the innovations and excellent craftsmanship. Being located on Mehrauli-Gurgaon (MG) Road, it is the most seen building and its infrastructure enchains International companies to operate or regulate their business. Separate Lobby & elevators are facilitating the working people to commute. It was constructed in 2003 in postmodernism architectural style designed by Hellmuth Obata & Kassabaum.
If we talk about the amenities inside the buildings, these include Lifts, water & Power Backup, Fire fighting systems, Intercom, car parking, Gymnasium, Gated & CCTV security, ATM, Restaurants, Centralized AC system with separate AHUs. It has the easy access to Metro station as it is just 1.6 KM away from the Guru Dronacharya Metro Station. Professional Property Management is the sole of the success of this building.
Address: Mehrauli-Gurgaon Rd, Sikanderpur, Sector 26, Gurugram, Haryana 122002
5. Unitech Signature Tower:-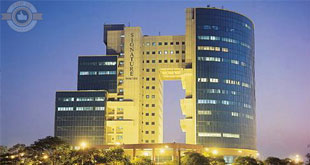 Among the popular Commercial towers in Gurgaon, Unitech Signature Tower is one of them. This commercial infrastructure has been divided in to three parts I, II, III. Unitech Signature Towers are given Grade "A" in terms of commercial infrastructure and exterior. Unitech Signature Tower I is divided in to Two towers and located at Sector 29 South City 1, NH8, Gurgaon. This tower is offering all the modern amenities and encouraging success storied to be written & re-written. It has become the unique point for Multinational & Indian Companies to operate their business. It is the perfect location as it has the easy connectivity with NH-8.
6. Building 10 DLF Cyber City:-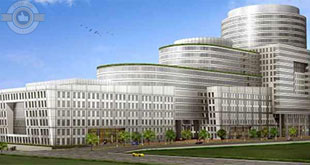 An Integrated Commercial building offering modern workplace for ITes. Building 10 is again a successful contribution by DLF with futuristic amenities and interactive environment for cutting edge technical and professionals. The total built up area is 22,78,883 Sq Ft. and divided into 3 towers. 'A' Tower is built over the 3,82,028 Sq Ft area and comprising 3 basements, ground floor and 5 floors. 'B' Tower comprising 3 basements, ground floors and 14 high rise floors & built over 7,05, 027 Sq Ft area. "C' Tower has the highest proportion as it is built over 11,91,828 Sq Ft and having well designed 3 basements, ground floor and 20 floors up. Retails outlets are located on upper ground floors in each tower. The successful clients are Aircel, PWC, BCG, Deloitte, Indus etc. Building 10 is located at the cyber City which is close to cyber hub which is again a source of entertainment.
Building 10 is properly maintained through DLF services Pvt and committed with the excellent delivery services. With having the provision of Disaster Management Plan, Wi-Fi connectivity, Fibre Optic Connectivity, medical facilities, power & water backup, Centralised AC, Fire detection systems, telecom, Building 10 offers safety, security and lavish infrastructure. It makes our India Proud due to amazing exterior & interior at low operating cost. The whole concept is designed by Hafeez Contractor with NFPA Compliant * Seismic Zone. Its retail facilities includes Food Courts, Fine dining, health club, beauty salons, Gym, ATMs, Business centers etc. Enjoy the lavish workplace while occupying perfect place for your business start-up.
Address:- DLF Cyber City, Phase 3, Gurgaon
7. DLF Gateway Tower:-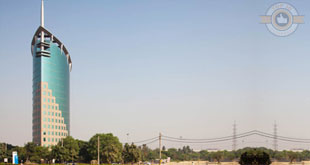 As we know, DLF has given successful commercial and residential building to India with amazing architectural qualities. DLF came into existence in 1946 and till date, it never let anyone disappointed due to its continuous efforts. Keeping the decided ratio of greenery and commercial space, it is helping to maintain the clean environment and standardization. DLF gateway Tower has been built on the 1.15 acre land and offering 12 storey perfect designed floors for commercial offices. The building exterior and interior is inspired by the modern infrastructure and architecture. DLF Gateway Tower has a shape of SHIP which make it unique concept. It motivates the people to have a safe and moving ride towards career zone. It has all the modern amenities which should be held by any successful commercial tower like ample parking, 24*7 CCTC security, Parking, AC, Power & water back up, gated security, etc. This lavish Commercial Tower empowering start-ups to grow faster.
Address: Sector -24, DLF Phase III, Gurgaon
8. JMD Regent Square DLF CITY PHASE 2, Gurgaon:-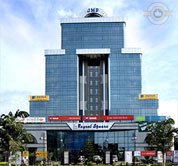 A successful presentation by the JMD groups invited brands like Aviva, Kotak Mahindra, HSBC, Standard Chartered bank. The whole building is aesthetically designed with the seamless functionality, fusion elements and much more. JMD regent Square built over 2.181 acre area with the gross floor area of 140000 Sq Ft. This 13 storeyed building is developed and designed with colorful polished granite, marble flooring, aluminum curtain walls, aluminum windows with toughened glasses, etc. JMD Regent Square is equipped with the Centralised AC System on each floor, 100 % water supply, 24*7 Power back-up, ventilated basements, and modern fire fighting systems.
Being located on MG Road, It has easy connectivity with the Delhi, Faridabad & Gurgaon. Not only the IT sectors, Real Estate, Banks & financial institutions are also having their operation entity in this prestigious building. Get a perfect place for your business and take a step towards success while having an extensive space in this building.
Address:- Sector 25, MG Road, DLF Phase-2, Gurgaon
9. JMD Megapolis, Sohna Road Gurgaon:-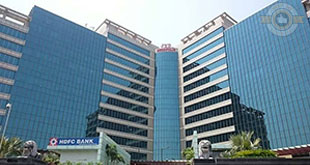 IT sector is like a Sunrise when we talk about the career or business area. It is spreading day and day and to welcome such aspirants, JMD Megapolis offering premium spaces to start-ups or existing brands with bareshell or fully furnished features. JMD Megapolis is built over 10,025 acres of land and divided into 12th floor with separate services lifts & passenger lifts. Its architecture is amazing with using colorful granite or marble flooring on each units, aluminum windows, designer curtain, multi-level parking, Centralized AC on each floor, 100% power & water backup, copper wiring electrification, sophisticated fire fighting systems.
JMD Megapolis is known as well maintained IT building which is consisting popular brands, Business centers and start-ups. To facilitate with the banking system, HDFC Bank is located inside the building. Pocket-friendly food court can be utilized for our snack, & lunch available on Stilt Floor. It has the walking distance with Subhash Chowk and easy connectivity with the Sohna Road & NH-8. JMD Megapolis is surrounded with the residential and commercial area. So people having their operating business in JMD Megapolis has great scope to grow more & faster. Nearby Entertainment Venues are working as the refreshment for the people working long hours.
Address:- Sector 48, Sohna Road, Near Subhash Chowk, Gurgaon.Phone No : 0124 265 9043
10. Spaze ITech Park:-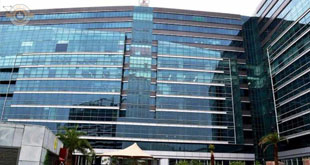 One of the prestigious IT building in Gurgaon located in sector 49, Sohna Road. There is no word for the exterior & interiors of the building. The whole concept if built over the 10 acres of land at prime location of Gurgaon having easy connectivity to Sohna Road, Delhi, Faridabad and nearby areas. Spaze I-Tech building reveals the story of success of Information technology which is spreading day by day due to digitization. Its state-of-the-art infrastructure, extensive offices & commercial spaces, retails Shops driving more audience towards this novel building. This IT hub has great potential for Start-Ups and Existing companies at nominal lease or rent pricing.
Spaze I-Tech offers 'A" grade facilities like high speed internet, 24*7 Power & water backup, Hi-tech Communication Centre, Multi-level parking, CCTV surveillance, Health Club, Gyms, Fire Fighting system, seismic structure, etc make the human stay easy or effortless. Business lounge area built over 85,000 Sq Ft and makes the working environment much better. Spaze I-Tech is a perfect place for shopping or running business. Its royal food courts and well planned restaurants are source of attraction where business meeting can be conducted. Start your beautiful day with the snack, gyms and fresh garden and go happily your home after spending wonderful hours of your working. Develop your future at pocket-friendly rent and boost your business.
Address:- Sector -49, Sohna Road, Gurgaon- Haryana.
These High-Rise buildings are equipped with all the modern facilities and inspire the new-comers to have a profitable kick. you may also get the perfect space for your working in any of the high-buildings in Gurgaon who are admiring Multi-national companies to grow more.
---